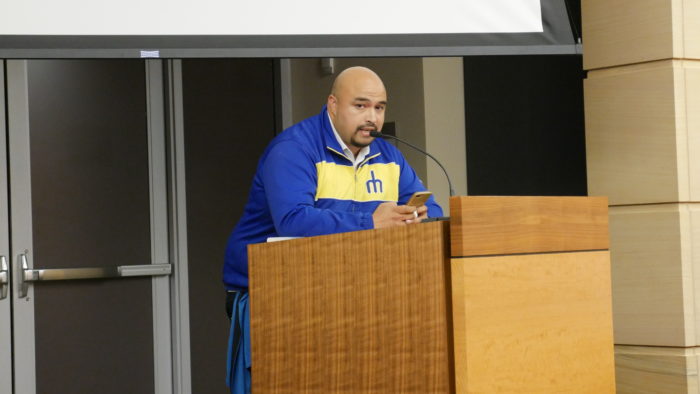 7pm July 17, 2017
 Location: City Hall
This meeting covered the Council's appreciation for former Mayor Joan McGilten; changes to City Employee healthcare; the Parks and Rec PROS Plan and long term goals; the quarterly Economic Development report; Chief Kimerer's report about 4th of July fireworks and his announcement of retirement; and the current status of Prop 1.
Cast of Characters
Position 1. Lauren Berkowitz: Her seat is currently up for election, and she is not running again. Tonight Berkowitz championed workers' rights, along with making information accessible to the members of our community for whom English is not their first language. She said she had trouble supporting any plan that did not get input from non-English speaking residents. Five candidates are vying for her seat.
Position 2. Bob Edgar: Serving since 2011, his current term is up in 2019. Edgar spoke in favor of pesticide free parks, and did not have much else to add tonight except to remind us that solar panels on the rooftops of new business development in NERA (North East Redevelopment Area) may interfere with airport navigation.
Position 3. Debi Wagner: Serving since 2013, her seat is currently up for the vote, and she is in the running along with two other candidates. From her statements during the meeting, her interest is in ensuring that children have fun and accessible play equipment available.
Position 4. Mayor Lucy Krakowiak: Serving on the Council since 2003. She voiced an interest in keeping the parks as free of herbicides as possible, but otherwise kept her comments to a minimum. Her job as mayor seems to be to make sure the meeting is moving forward and following protocol.
Position 5. Deputy Mayor Nancy Tosta: Her seat is up for the vote and she is in the running along with three other contenders. Tonight Tosta championed walkability, local jobs, and environmental protections.
Position 6. Austin Bell: Two years into his first term on the Council. Tonight he spoke in favor of encouraging current and future small businesses, and improving Burien through supporting a strong local economy.
Position 7. Steve Armstrong: His seat is up for the vote, and Armstrong is running for reelection, against four others. Steve's concerns tonight were mainly about fiscal responsibility, along with expressing concern for residents who live near new developments in the NERA zone.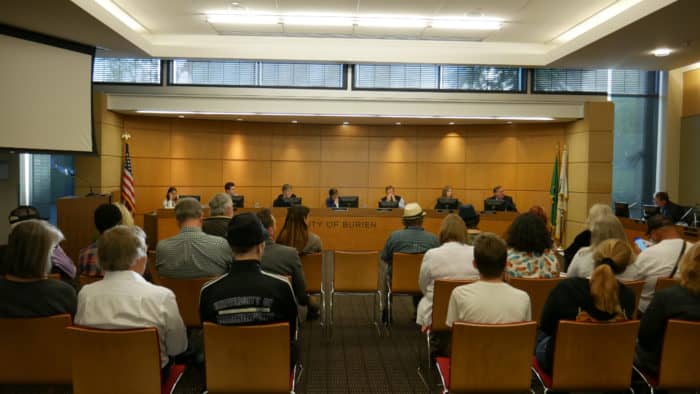 The Meeting
The meeting began with five minutes of appreciation for the work of former Mayor Joan McGilton, honoring the important projects that she was able to bring to fruition in Burien. The projects she championed include the beautiful Seahurst Park renovation, the Town Square development, the Environmental Science Center, and CARES.
The meeting was opened for public comments. There were five, including a very young community member named Penny who declared that Burien needs a water park.
Changes will be made to city employee healthcare, with the goal of reducing costs. Berkowitz suggested that unionizing city employees would reduce healthcare costs, but there was no move in that direction.
There was then a detailed presentation about the PROS Plan led by Steve Roemer, Director of Burien Parks and Recreation. The plan focuses on improvements to Historic Lake Burien School Park. The changes will retain the wide open field, the existing trees, and the Gateway Arch, while improving drainage, security lighting, adding more interesting landscape features, resurfacing the tennis court, installing a more accessible trail, and redesigning the play structures. Much of the money will come from grants, with plans to ask the City for funding as needed for certain portions of the plan. The Parks Department is taking public comment on all aspects of their plan tonight from 6:30-8pm at the Community Center. Tosta suggested that the public input events could take place at the park itself, rather than in a meeting room, in order to include more of the actual park users. The PROS Plan passed 6:1. There was also a lengthy discussion about the long term Parks & Rec goals.
Andrea Snyder, Burien's Economic Development Manager, gave her quarterly report. The discussion centered around promoting new business development in the area, as well as the things that are being done to make sure our current businesses are successful. Snyder is also involved in the branding effort to bring new interest in Burien.
Police Chief Scott Kimerer discussed efforts the department made to reduce the use of illegal fireworks, and the difficulties involved. He said despite better public awareness and increased cops on the streets, firework use remained high- as any of us who were in town on the 4th are aware. Ten citations were issued for illegal fireworks this year, with each citation taking an hour of an officer's time. The Police Department worked hand in hand with the Fire Department, and there was only one brush fire in town that day. While Chief Kimerer said he was at a loss for how to reduce fireworks use in the future, he offhandedly suggested that if there were a public fireworks show, then people might not need to do their own. This reporter thinks that is a wonderful idea, which would make a lot of people happy while reducing the risk and nuisance of illegal fireworks. The Chief then announced that after 14 years in the service, and 6 years serving Burien, he is retiring in September.
The final item of the night, and what many were gathered to hear about, was the fate of Proposition 1, which would repeal Ordinance 651, making us no longer a "Sanctuary City". The City Attorney explained that the Proposition received 4115 signatures, but after the official count by King County, they had only 3119 valid signatures. They were then given 10 days to collect the remaining signatures needed. If they collect the required signatures in time, the Council will then decide whether to repeal Ordinance 651, or put it to a vote by the people. This information was followed by public comments, including a very moving testimony by Hugo Garcia, a proud immigrant, a Burien homeowner, and a businessman. Krystal Marx, a contender in the current race for Council Position 7, then spoke in favor of retaining Ordinance 651, in order to keep Burien a welcoming city. Berkowitz reminded us that Prop 1 is about religious affiliation as well as immigration status.
Meeting was adjourned around 9:30.