This morning we met with Burien Police at the Starbucks at Ambaum & 148th, which hosted Coffee with a Cop Day. From 8-10:30 anyone could come in and enjoy a free cup of coffee and ask local police about their work in the community. We went, and were surprised at the large turnout. Furniture had been moved to create two long tables, where big groups avidly discussed crime and other issues facing Burien. I went with three questions, prepared to get answers and head home to my family. However, the discussion was so important and engaging, we ended up staying for nearly 3 hours (and three cups of coffee).
In this article I'll give an overview of what we discussed, though I can only speak to the table I was at. The officer we spoke the most with is Captain Bryan Howard. He was absolutely helpful, open to answering all our questions, and also happens to be the guy who does social media for Burien PD. You can see his posts on their facebook page.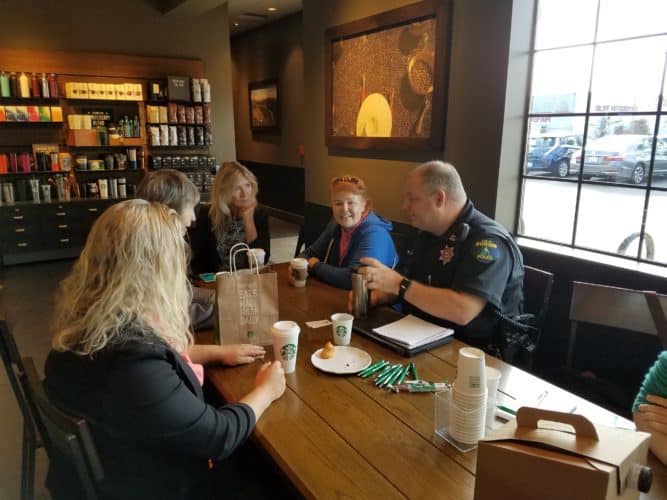 Homelessness
One of the first discussions was homelessness, and what to do about this growing issue. At any time there are between 20 and 50 people without homes living in Burien, many with various mental health and addiction problems. Arresting them might get them off the street, but it is a very temporary "solution", and does not help anyone in the long run. We already have the highest rate of incarceration in the world. Rather than arresting the mentally ill, one officer said, "I want to arrest someone for failing the mentally ill!" We are in need of long term care facilities for people suffering from mental illness. Washington State is the 48th lowest in terms of what it spends on mental health.
Burien is a compassionate city, and some people feel safer being homeless here than elsewhere. While only a small percentage (maybe 20%) of our homeless population originally hail from Burien, there is no practicable way to make their cities of origination pay for their treatment or care. Hawaii has the practice of flying their homeless population to Seattle (the cheapest fare off the island). Some city's police will drop addicts or panhandlers off in neighboring cities. This is neither ethical nor actually solving anything. We need regional or Federal solutions for the homeless and addiction crises.
Are the Hands of the Police "Tied" by City Council?
Many people have been wondering this, and some don't believe the answer when the police say, "We do enforce the laws; our hands aren't tied." Some people seem to believe that a different City Council would change how the police do their jobs, but this does not seem likely. Nearly all of the City Council candidates were present at some point this morning, as well as one who is currently on the Council. Some candidates have suggested that they would make panhandling a crime, in order to help eradicate homelessness. One officer at our table said that other cities have tried this, but in no place has this law been successfully enacted, because panhandling is protected under the First Amendment.
The police say part of the problem is that there is no support after an arrest. So someone can be taken off the street, but they can't hold them indefinitely, even when they are guilty of property crimes and the like, so there is nothing to stop criminals from being back on the street, and possibly at it again.
Crime
Police need all of us to report every crime that occurs, no matter how petty. Report suspicious behavior as well. If you don't need an immediate response, you can easily report crimes on their website. It can be discouraging to report a crime and get no satisfaction of an arrest or return of your property, but the police use all these reports in their analysis of where a police presence is needed. Like we found in our research on Burien's Crime Epidemic, the police today said in recent years serious crimes have decreased, while "quality of life" crimes (car break-ins, package theft) have increased- and nearly all of these crimes are committed by addicts.
The most concerning rise in crime, however, is gang related. Several recent shootings led the officers to crack down on local gangs. Gang members, when busted, rarely "snitch" on fellow members, making breaking up the gang extremely difficult. However, the officers contacted families of gang members in an effort to let them know the seriousness of this issue, and their tactics seem to have helped, as shootings have stopped in recent months. They also said that, contrary to a popularly held belief, most gang members were born here.
The highest priority of the local police is getting guns off the street, and to that end they were extremely successful this week, with a bust that included seizure of 16 illegal, mostly stolen, firearms. The bust also included large amounts of drugs and hundreds of bottles of stolen liquor.
One way you can help officers keep your neighborhood safe, is by starting a Block Watch group. If you need help getting started, check out our article on how to make it happen.
"Sanctuary"
Police say Burien's policy of not inquiring about immigration status never affected their work, as they have essentially been following that policy since the 90's. The local ordinance does affect other city workers, but police had already been following a similar King County law. As one officer said today, "If somebody commits a crime, it doesn't matter if they're here illegally or not."
One community member asked if it is harder to find out the criminal background of undocumented residents. The officer responded that it's harder to see someone's record when they're from out of state. So yes, that can be an issue, but maybe no more than someone coming here from Missouri and then committing a crime. Washington State uses federally shareable criminal records, but many states, particularly in the south, do not.
Youth
Police have programs in place to engage with today's youth, particularly at-risk youth. In one such program, Badges & Barbells, police partner with high schools to work out with, and make connections with, young people. They have another program through Boy Scouts where youth can essentially "job shadow" police officers.
Police also are actively working to change the demographics, and the common perception, of the force from mostly white males to more representative of the populations they serve. To this end, they actively recruit athletes, who are uniquely suited for the work of an officer because of both physical health and experience working with a team. The police also have an emphasis on community college recruitment.