This meeting started off exceptionally quietly, with only around ten community members in attendance, but the seats gradually filled in as the night progressed- and tensions rose. 
All Councilmembers were present. The meeting began with public comments, with one person stating that we should lobby for more state & federal resources to address homelessness; another asking that we institute a dangerous dog registration as other cities have; one person asking that Councilmembers sign a code of ethics, with penalties for breaking them; and myself. I suggested to the Council that communication during the meeting would be improved if their computer monitors were lowered, so those of us in the audience would be able to see the faces of the Councilmembers, rather than just the tops of their heads. I was rewarded with an immediate and unanimous positive response, as every CM- excepting CM Edgar, who already had his lowered- graciously lowered their monitors.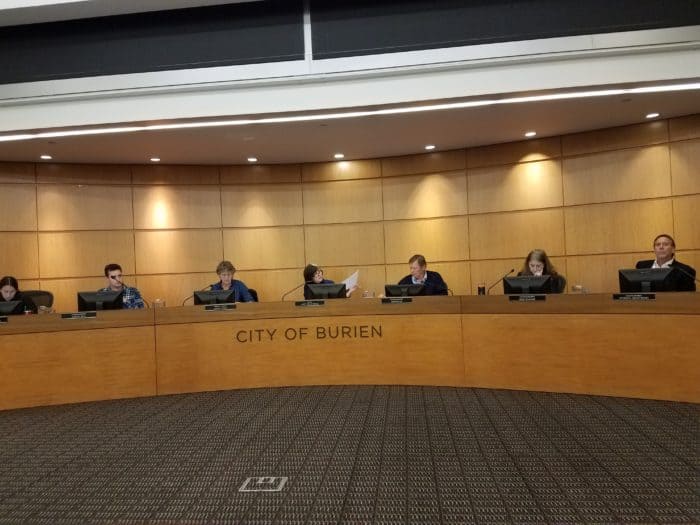 CM Armstrong suggested a moment of silence to honor the many victims of the shooting in Las Vegas.
Finance Director Kim Krause gave the "Mid Biennial Budget Presentation". CM Tosta had several questions. She inquired if money could be allocated to build a parking structure; asked that we purchase electric vehicles for the City rather than standard, oil dependent vehicles; and inquired about the doubling, and continued increase, of jail expenses, while residence in SCORE has not increased. CM Berkowitz suggested the solution would be to put fewer people in jail. She also stated that we are in a crisis and need to be using the City's Rainy Day fund to support Human Services in our community.
The meeting was so calm and smooth, one community member fell asleep and quickly commenced snoring.
During public comments, community member Chestine Edgar spoke passionately about how many local businesses remain unlicensed, or have expired business licenses, and how this is an important source of revenue for the City. She also spoke to the need in our community for a Recreation Center for the youth, and how this is something that's been discussed for 9 years but we still have no plan in place for it.
A great new source of income for the City is the Community Development Block Grant (CDBG) which is an annual allocation of Federal money to cities of a certain size. The money must be used in a way that benefits lower and middle income community members. This year, about half the grant is going to the rebuild of Lake Burien School Park, and half for low income housing programs. This is the first year we've received the CDBG; there was not much time to discuss where the money is going to be used, but we can count on getting this money next year as well, and will have more time to plan how it's used. The total grant is almost half a million.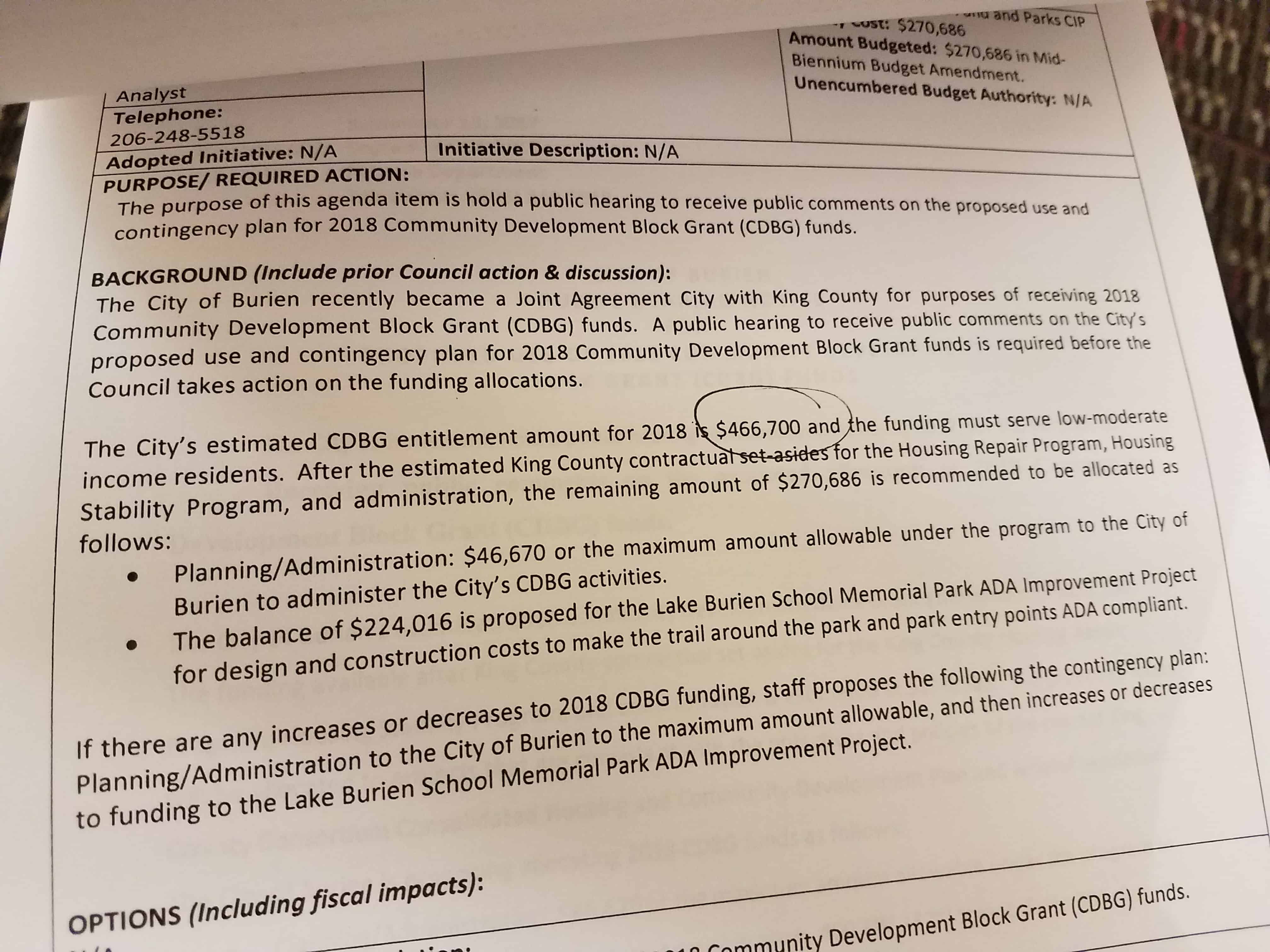 Another important item on the agenda was the changes to State Route 509. At this point the City is expected to pay a portion of the costs, to match funds for the planned highway changes; but the Council, the City Staff, and the community are united in their plan to require the Port of Seattle to pay the full 60 million. As Wagner pointed out, the City of Burien has no obligation and no ability to pay the expected contribution. The Port is seen as the sole beneficiary of the coming changes, which will link I-5 with the south end of 509. Burien will bear the brunt of increased traffic problems, and will likely ask for mitigation in the future.
Then came the drama, as the council discussed Council Meeting Guidelines. CM Wagner objected that the proposed Guidelines did not include the 6 Rules of Behavior from Robert's Rules. CM Berkowitz objected to her Constitutional right to free speech not being upheld, as the Guidelines will not allow CMs to tweet or use other social media during Council meetings. She maintains that tweeting during a meeting poses no disruption and is therefor not subject to restriction. CM Bell also spoke in favor of engaging the public via social media. Wagner argued that a person would have to tweet to even see what certain CMs are saying during the meeting, there are no public records of these tweets, and therefor it is not accessible to all or appropriate. Berkowitz countered that since she is the only CM tweeting, this is an obvious attempt to discriminate against her and limit her free speech. City Attorney Lisa Marshall concurred that only actual disruptions are prohibited by law. CM Tosta had several issues with the proposed Guidelines. She declared that there should be no limit to the Councilmembers' correspondence to the public. She also did not want every letter from the public to the Council to be published, an issue Bell also spoke to, as some are quite dark or are written by people with certain agendas that they just want aired. She maintains that CMs should be able to use their discretion about which letters are published. Lastly, she gave examples of several places where the proposed guidelines are poorly worded and contradictory, not clear, or stated incorrectly.
The proposed Guidelines passed, 4:3, with Berkowitz, Bell, and Tosta voting no.
Finally there was discussion of the Peter Western Bridge project. This bridge, which connects DesMoines Memorial Drive in Northeast Burien with Hwy 99 and E. Marginal Way, was found to be dangerously close to collapse in February, and has been closed since 2/9/2017. The bridge was demolished on May 19, and we are awaiting permits for new construction, which could start as early as May 2018. The construction is scheduled to take 16 months. 100% of demolition costs came from Emergency Relief funds, who are also providing 85% of the replacement costs. The City will need to pay $500,000 from our current budget for the rebuild.
The meeting adjourned at 9:30.